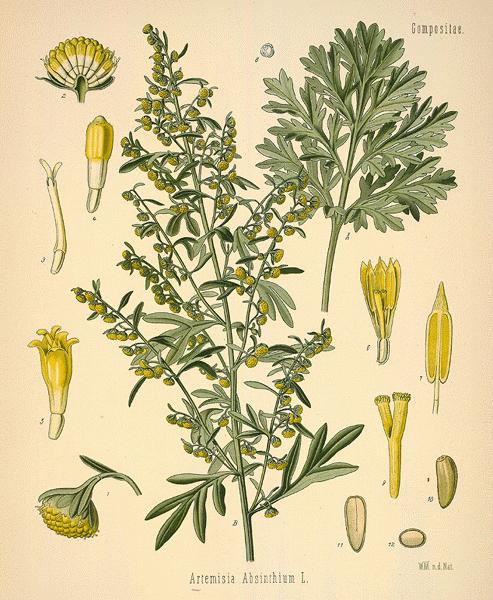 Wormwood is an herb famous for it's wickedly bitter bite. There are few things, even in my experience sampling different wild and cultivated medicinal plants, that quite reach this level of bitterness. It's a good one to turn your face inside out if that is the sort of weird experience that you're after. Although not the most delightful flavor to brew up as a tea or for straightforward eating (although wormwood was apparently used in small amounts to season meats much like culinary sage (Salvia officinalis), which also has a somewhat bitter flavor but is more aromatic and interesting I feel) when added to malt deepens the flavor and cuts out the molasses-like sweetness. Consequently, wormwood's history in brewing traditions is almost as old as records of the herb itself, going back well into the 13th and 14th centuries in Europe and even older in the case of Chinese herbal literature.
Wormwood (Artemisia absinthium) is a pungent-aromatic, stoutly branching wispy perennial herb with finely divided fern-like foliage that is covered in soft white hairs and bears inconspicuous yellow flowers. The species was originally found throughout Europe and Asia but was spread to North America and other places by early herbal missionaries. Since then, it has escaped cultivation and can be found in a variety of open, sunny positions in moist, rich or dry impoverished soils alike. In the Greater Toronto Area, wormwood does not seem to be as common as mugwort (Artemisia vulgaris) which grows in the gravely shoulders of highways and on steep rocky embankments, looks similar although it's leaves are green on the upper surface and divided in a different fashion.  The bitterness is more modest (although still wicked compared with many other herbs) in mugwort but the majoriy of the medicinal properties between the two species are shared.
Wermuth means 'preserver of the mind' and can be traced in it's origins to the belief that wormwood had a stimulating and rejuvenating effect on the nervous system and improved memory. I think this also makes a good name for the beer: I love to resurrect ancient terms which conjure up relationships of language long passed. Our way of describing things and understanding our own personal definitions of reality have been changing at almost the same rate as our architecture, politics and technology. With each leap in innovation or theology, a new way of existing emerges which dispels the acceptance of an early method of understanding. Information may become outdated, but it most definitely does not stop being useful or intriguing, for what do we truly have other than the foundation of our history in the form of accumulated knowledge?
Wormwood possesses a wealth of medicinally active components that have a wide range of influences in our bodies. For the longest duration of it's relationship with humans, wormwood has been prescribed as a vermifuge; a plant which kills internal parasites such as ring or roundworms; hence the origin of this species (most) common English name. The other area in which wormwood has a particularly powerful affect on is the digestive system. Chewing on or drinking an infusion of the extremely bitter leaves, flower buds and stems of wormwood stimulates the action of the saliva glands, liver, gallbladder and stomach. The production of saliva in the mouth, the flooding of digestive enzymes and bile from the liver and gallbladder and the production of stomach acid all help to prepare the body for digestion.
By initiating this behavior prior to food consumption, fat, complex carbohydrates, protein, and many other nutrients are more thoroughly broken down which allows for better nutrient absorption when your food moves on into the small intestine. Consuming wormwood after a meal can likewise help ease indigestion, wind, diarrhea and constipation; the herb has a wonderfully restorative and nourishing effect on sluggish digestive systems and may be helpful for those who suffer low stomach acidity, irritable bowel syndrome or other such chronic diseases.* For more information on the specific medicinal uses of wormwood, consult Plants for A Future, one of my personal favorite online sources for reputable and scientifically sound plant based medicines.
Wormwood was not added to fermenting wort simply as a bitter substitute for hops when it was in short supply, but was introduced to the tradition of brewing for many different reasons. The entire herb is strongly insecticidal, anti-fungal, anti-bacterial and anti-septic, which not only helps the beer to keep for long periods of time but transfers those same virtues into the body through consumption, scrubbing clean the digestive and urinary systems of toxins, parasites and viruses as it passes through. The inebriating effects of wormwood were also thoroughly acknowledges centuries ago, as it was one of the main ingredients in the legendary drink absinthe, which also included hyssop, coriander, sweet flag, nutmeg, cinnamon, marjoram, mint, anise, fennel, juniper and parsley among others.
Not only was absinthe notoriously strong (traditionally 120 – 160 proof) but many of the herbal ingredients contained psychoactive compounds, thujone and wormwood included.* This gave absinthe a powerfully intoxicating effect on the human body which inspired heaps of anecdotal encounters with the 'green fairy' that many poetics and philosophers who apparently abused absinthe experienced centuries past in Western Europe. All of this considered, beers brewed with wormwood are not nearly as potent as 120+ liquors or invite the joyful possibilities of momentary insanity, hallucinations and other such disturbing side effects. However, wormwood beer was certainly well known to have a 'competitive edge' so to speak, which I am quite interested to experiment with. It makes me wonder, that as long as the appropriate doses of wormwood are thoroughly understood, why has interest in it has an ingredient in beer disappeared? Likely with prohibition of it as a feature of Absinthe, me thinks. It's a shame, because there is lots of fun to be had here.
INGREDIENTS:
– 4 pounds liquid malt extract
– 1 pound raw wildflower honey
– 1/2 ounce dried wormwood herb
– 4 gallons water
– 10 grams brewer's yeast.
I might substitute some fresh grain for the liquid malt extract if the opportunity presents itself, but I have never done sparging or any of the other necessary techniques of doing whole grain batches. If you are someone that happens to know quite a bit about that whole process, I would appreciate some pointers. I would like to move in the direction of doing whole grain batches, but there is quite a few things holding me back from that at this moment and so I can't see myself doing it all the time until further notice, even though I would like to.
INSTRUCTIONS:
– Bring 1 gallon of water to a boil and add wormwood herb. Boil for 30 minutes.- Strain tea through malt extract and stir until completely dissolved.
– Allow wort to cool until approximately 100-110 °F.
– Strain wort once more into fermenter and add remaining 3 gallons cold water, stirring to combine. add yeast.
– Insert airlock and ferment for 7-10 days.
– Add 1/2 teaspoon of sugar to each bottle and cap. Ready in 10-14 days.
*Wormwood, like many powerful medicinal herbs, should be respected and used with caution, only to be used on a regular basis under the supervision of a health care professional or herbalist. Wormwood contains thujone, a controlled substance in Canada, the United States, and many other countries around the world. Taken internally, high doses of thujone or the essential oil of wormwood can cause nausea, loss of coordination, insomnia or in more unfortunate circumstances, seizures, hallucinations and trigger epileptic fits. The sale of wormwood as a medicinal herb is not regulated, as the level of thujone in the herb is relatively low although poisonings throughout the world do still occur.
Thuja occidentalis, the eastern white-cedar tree, also contains thujone in it's foliage and this plant also has a rich history of medicinal used among the first peoples on North America. Despite thT thujone received it's chemical name for the genus name Thuja, the eastern white-cedar as a species is not controlled. It is common in the wild where suitable habitat exists and is a commonly cultivated evergreen hedge. Any reasonable dose of wormwood will not be enough to cause the negative side effects listed above, but wormwood is discouraged from being used on children, the elderly, and pregnant or breastfeeding women or if the individual has a history of seizures. As long as you are smart about it, then there is little risk. A little wormwood goes a long way.